Education Gadfly Weekly
Volume 12, Number 29
August 2, 2012
Reviews
Gadfly Studios
Podcast
Winning the gold for gab
Mike and Rick ponder public perceptions of education spending and whether it's Rick—not teachers—who needs a dress code. Amber explains why penalty pay works.
Video


Rethinking Education Governance Lunchtime Keynote: Chris Cerf
Featured Publication
How Americans Would Slim Down Public Education
yes Steve Farkas , yes Ann Duffett / August 2, 2012
Education budgets are tight and state and district leaders must make tough decisions about where to save. But is the public willing to accept cuts? If so, where? According to the results of this new survey, many Americans are open—selectively open—to dramatic changes in how school districts do business.
Amber M. Winkler, Ph.D. , Chester E. Finn, Jr. / August 2, 2012
In November 2010, Education Secretary Arne Duncan delivered a widely noted address about the tough economic times facing American K-12 education. "I am here," he said, "to talk today about what has been called the New Normal. For the next several years, preschool, K–12, and postsecondary educators are likely to face the challenge of doing more with less."
Twenty months later, it's clear that the Secretary's warning was right on point. Many states face bona fide budget crises and, as a recent report by former Federal Reserve Chairman Paul Volcker and ex-New York Lieutenant Governor Richard Ravitch warns, these strains will worsen in the coming years. Depressed housing values have meant skimpier property-tax revenues for schools; voters have balked at passing local levies; federal "stimulus" dollars have dried up; Medicaid costs are headed through the roof. Once limited to a handful of budget-conscious superintendents and state officials, discussions about how to curtail education costs are taking place in virtually every district and school across America.
Is America ready for this sour fiscal lemon? Is there any possibility of lemonade, i.e., making reforms in a time of budgetary stress that might not otherwise be possible? Secretary Duncan thought so:
My message is that this challenge can, and should, be embraced as an opportunity to make dramatic improvements. I believe enormous opportunities for improving the productivity of our
---
The Education Gadfly / August 2, 2012
Aggressive marketing campaigns have led to an uptick in Catholic-school enrollment in some cities, a trend Gadfly hopes accelerates; many urban parochial schools have plenty to brag about and their merits stack up well against many of the district (and charter) schools they compete with for students.
A Wall Street Journal essay took teacher unions to task over the weekend for effectively protecting sexual predators through the byzantine procedures required to fire educators guilty of abusing students. Reformers need to be careful not to wield this argument recklessly—but the unions must recognize that the issue at hand is not worker rights: It's doing the right thing for the students that teachers serve.
At last weekend's AFT convention, Joe Biden declared that teachers are under "full-blown attack" by Republicans. By attack, Mr. Vice President, you mean advocating for compensation that rewards teachers for high performance? Creating school models that empower educators and cut down on bureaucracy that keeps education dollars from reaching classrooms? If so, then here's hoping the GOP goes after principals next.
Giving high-performing blended-learning schools like Rocketship high-profile coverage, as the Washington Post did on Sunday, is more than deserved: With luck, it will help the public overcome its wariness about this promising model.
Florida Education Commissioner Gerard Robinson announced his resignation on Tuesday. We wish this estimable gentleman the
---
Daniela Fairchild / August 2, 2012
Erudite yet common-sensical, this latest from TNTP (formerly The New Teacher Project) explains in great detail why we're losing stellars teachers from our urban cores—and how to remedy this problem. Per TNTP, we're failing to keep the best-and-brightest classroom instructors (dubbed "Irreplaceables" and defined as districts' top 20 percent by value-added metrics). Their departures create deep and difficult-to-fill human-capital holes. To quote the authors: "When an Irreplaceable leaves a low-performing school, it can take eleven hires to find one teacher of comparable quality." For an average school, one in six hires will be of equal quality. The report analyzed data from four large urban districts and found that schools retain their best and worst teachers at similar rates. From year to year, low-performers (those in the bottom quintile) are just 4 percentage points more likely to leave teaching than those in the top quintile. Extrapolated, this means that each year, 10,000 Irreplaceables flee the nation's fifty largest school districts, or leave teaching altogether. TNTP places the onus for this largely on school leaders (who have an equally aggressive departure rate from urban schools, mind you)—though district heads, union bosses, and state policymakers are also held to account (for creating or allowing policies that incentivize principals to retain the status quo). Overall, TNTP found that less than 30 percent of Irreplaceables leave their post for reasons beyond their
---
Amber M. Winkler, Ph.D. / August 2, 2012
Imagine that the U.S. women's gymnastics team was awarded the gold medal during the opening ceremony of this year's Olympics. The catch? They could only keep it if they performed up to snuff during the all-around competition. Would they be more or less likely to turn in a gold-medal performance? According to this study by Roland Fryer and colleagues, the answer is more likely. The study puts a new twist—and flip—on merit pay, investigating how the timing of monetary bonuses affects teacher performance. Instead of receiving bonuses after their students have demonstrated higher achievement, teachers in Fryer's study were paid in advance and agreed to return the money at the end of the year if their students did not improve sufficiently. Fryer and colleagues implemented the initiative in 2010-11 in nine K-8 schools—all enrolling high percentages of low-income, minority students—in Chicago Heights, Illinois. Approximately 150 teachers—a full 93 percent of those in the schools—agreed to participate in the study. Teachers were randomly assigned to the control group or one of four treatment groups that differed according to whether teachers received bonuses up front or after demonstrating gains and whether bonuses was based on individual or team-based gains. Bonuses ranged up to $8,000. In short, Fryer & Co. found that students whose teachers received up-front bonuses showed statistically significant gains in math—roughly .2 to .3 standard deviations—a pattern that held whether teachers were compensated as a group or as individuals. No
---
August 2, 2012
Better late than never. Jeremy Ayers and Isabel Owens of the Center for American Progress have now looked at the twenty-seven second-round waiver applications that states submitted to Secretary Duncan (as Ayers had done with the first round waivers in December 2011), seeking recurrent themes across three of the Department's four priority areas: standards and assessments, accountability systems, and teaching and leadership. ("Duplication and burden" was not included as few states addressed it in their waiver applications.) Most importantly, they found that "the waiver process itself did not stimulate new innovations aside from accountability." What's more, even within this sphere, nine states opted to follow one of the Department's prescribed options for accountability, and many others set similar goals, slightly tweaked—bringing into question the level of "innovation" that is actually occurring. (This is probably due to the feds' tight leash on waivers at least as much to lack of imagination in the states.) CAP then uses its own policy priorities to rate the states' applications and offer recommendations. Among them: The Department of Education should ask for more detail on aspects of state plans and should establish a clearinghouse to document and share tools, strategies, and lessons of implementation. There's much helpful background here—and much detail about individual states' waivers. But read with a discerning eye, remembering that CAP, during this election year, is
---
Ben Bennett / August 2, 2012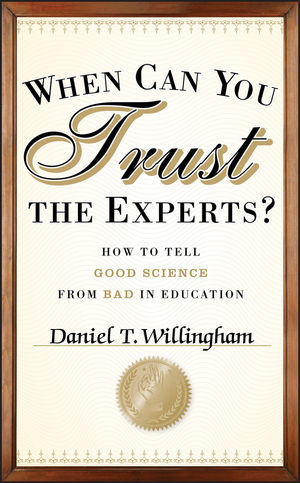 "Research-based," "brain-based," "best practices," "studies show": Research is used to inform, defend, or rationalize sundry decisions in education policy and practice. But what if the research is no good? This immensely readable book from rock-star cognitive scientist Dan Willingham offers a guide to parsing and filtering sound education research—or research of any sort, for that matter. As examples, he explains the history, statistics, and psychology behind the "learning-styles" and "whole-language" theories. And then debunks both. He flags specific issues in methodology to look for, some more obvious than others, but all necessary for a keen appraisal of edu-research. Finally, he offers four steps to winnowing grain from chaff: First, identify the principal assertion or claim, extracting from it all emotion, framing, and peripheral cues (what Willingham dubs "strip it and flip it"). Second, "trace it." Who makes the claim—and are they legitimate? Third, "analyze it." Does the evidence back the claim? And finally ask, "Should I do it?" Does the research offer enough practical persuasion to adopt a new program, policy, or opinion? Playful analogies, humorous pop-culture references, and lucid tables dot the text and help the reader through the abstract. In sum, Willingham provides helpful guidance for those looking to brave the edu-research morass—but he also avers that regular consumers of education should not need to scrutinize scientific journals. Instead, he calls specifically on teacher unions to
---
Announcements
Fordham LIVE, April 26: A Nation at Risk 30 Years Later
April 11, 2013
In 1983, A Nation at Risk sounded the alarm over the state of America's K-12 system. What has changed in American education and society in the years since—and what still needs to happen? Join former U.S. education secretary William J. Bennett, eminent author, social and political commentator, and host of Bill Bennett's Morning in America, for a conversation on our schools, our culture, and our future. Register now to attend the lecture on April 26 from 11AM to 12PM EDT; the event will also be live-streamed online.
Archives
Sign Up

for updates from the Thomas B. Fordham Institute