Education Gadfly Weekly
Volume 12, Number 22
June 7, 2012
Opinion + Analysis
Reviews
Gadfly Studios
Podcast
Total recall
Mike and Janie discuss the fallout from the Wisconsin recall election and teacher unions' image problem, while Amber explains what we can learn from the best CMOs.
Featured Publication
Are Bad Schools Immortal?
yes David A. Stuit / December 14, 2010
This study from the Thomas B. Fordham Institute finds that low-performing public schools—both charter and traditional district schools—are stubbornly resistant to significant change. After identifying more than 2,000 low-performing charter and district schools across ten states, analyst David Stuit tracked them from 2003-04 through 2008-09 to determine how many were turned around, shut down, or remained low-performing. Results were generally dismal. Seventy-two percent of the original low-performing charters remained in operation—and remained low-performing-five years later. So did 80 percent of district schools. Read on to learn more.
Chester E. Finn, Jr. / June 7, 2012
Not so long ago, I doubted that computers, cell phones, and the internet would make any more difference in American education than television had. Ringing in my ears was a comment by the late Ralph Tyler that the sole technological advance in a century that had really affected classrooms was the overhead projector because, he wisecracked, it was "the only one that the teacher could use while still keeping an eye on her students."
Computers, I figured, would continue to be useful to scientists and engineers and others with complex calculations to make. Cell phones would function like traditional telephones, only portable. The internet (whether or not Al Gore had anything to do with it) was for emailing and such. And "information technology" was sort of like engineering, a field for wonky college students wanting to write computer code. K-12 education might benefit marginally from bits of all this but mainly would sail on like a clipper ship of yore, powered by the same winds that had always propelled it.
Well, I was wrong. But this confession isn't just another paean to the potential of online learning. That's there, of course, and real. What
---
Michael J. Petrilli / June 7, 2012
For all of its victories over the last couple of years, including Scott Walker's on Tuesday night, the school reform movement finds itself in a pickle. To succeed in creating world-class schools and raising student achievement, it needs education's front line workers—a.k.a. teachers—to feel motivated, empowered, and inspired. And yet, according to the recent MetLife survey and anecdotal reports, many teachers are down in the dumps.
Sure, low morale might simply reflect tough economic times; when (or if) state and local coffers finally recover, higher morale might too. But let's be honest: The message we reformers are sending isn't all peace, love, and happiness, and that's probably having an impact, and not for the better.
The message we reformers are sending isn't all peace, love, and happiness, and that's probably having an impact, and not for the better.
We think many teachers are dumb (look at those SAT scores!); greedy (look at those gold-plated healthcare and pension plans!); racist (look at those achievement gaps!); lazy (look at those summers off!); ill-prepared (look at those crappy ed schools!); uncaring (look at all that bullying!); unnecessary (look at what computers can do!); and incompetent (look at those low value-added scores!). Or at least that's how many teachers hear it, I suspect. We love teachers—we just hate everything about them.
One option, according to union leaders, Diane Ravitch, and others, is to stop pressing for reform. Stop complaining about unaffordable pensions or healthcare
---
Tyson Eberhardt / June 7, 2012
Chicago Teachers Union members began voting yesterday on whether to authorize a walkout, potentially strengthening CTU President Karen Lewis's hand in contract negotiations with Rahm Emanuel and the Chicago Public Schools. Even with an affirmative vote, a strike is not guaranteed, but the union and district remain divided over class size and compensation (pay raises, merit pay, pay for a longer school day) and the conflict grows more complex daily as outside advocacy groups join the fray and hizzoner's star continues its rise. The timing of the vote is revealing: As the Chicago Tribune pointed out, "taking the vote now will allow 1,500 retiring teachers—most of them union stalwarts—a chance to vote as well." This not-insignificant cohort of the CTU's nearly 30,000 members could be counted on to toe the line, so the union did the stretching necessary to ensure that loyalists got to cast their ballots. Regardless of whether the union ends up walking out on students next fall, such maneuvering is telling: As the teaching force greys and its faith in unions dwindles, catering to the whims of veterans who benefit the most from the status quo puts the CTU (and the AFT and the NEA) in a precarious position for the future. Younger teachers, who stand to gain the most from the district's proposals, would do well to remember whose interests the union prioritized this week.
RELATED ARTICLE: "Chicago teachers to take strike
---
The Education Gadfly / June 7, 2012
Wisconsin Governor Scott Walker pulled out a solid victory in Tuesday's recall election, a stinging defeat for organized labor (teacher unions first and foremost) that should embolden other state leaders to take on previously sacrosanct public-employee benefits. Walker's move to curtail collective-bargaining rights was messy and expensive, but absolutely necessary in order to protect taxpayers from irresponsible superintendents and school boards and to ensure education dollars end up in classrooms, not benefits plans. Gadfly looks forward to seeing which state comes next.
The Department of Education gave states tens of millions of reasons not to try to stretch school dollars this week when itrejected South Carolina's appeal of a $36 million fine for cutting special education spending (along with all other spending) during the recession. For anyone puzzled by our nation's skyrocketing spending on special-needs students, one look at the feds' dogmatic enforcement of Maintenance of Effort requirements should help explain the problem.
The Sunday Washington Post offered a fascinating look at what it takes to fire a tenured teacher: months of hearings, hundreds of thousands of dollars, and hurdle upon bureaucratic hurdle. Equally frustrating about the particular case examined, however, was that student achievement wasn't a factor in the district's evaluation, and the teacher in question's pupils weren't low-performing: The case for her termination was based solely on subjective evaluations. The article is a crucial reminder that for tenure
---
Michael J. Petrilli / June 7, 2012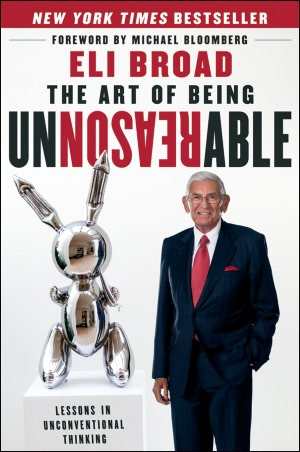 With his ample ego, it wouldn't be hard to poke fun at Eli Broad. But while some gentle teasing might be in order, Broad also deserves a full measure of respect and gratitude. As depicted in his surprisingly affecting memoir-cum-business-advice-book, The Art of Being Unreasonable, he's a pretty amazing guy, someone who has been wildly effective in four separate careers and who now wants to share his hard-earned experience with countless others. His advice and exhortations reminded me of a very influential tome from my own Midwestern roots: William Danforth's I Dare You. Danforth and Broad share the same overwhelming optimism that all things are possible—with enough hard work. Still, 192 pages later, I was left with a mystery: how to explain Broad's lifelong allegiance to the Democratic Party, other than as an inheritance from his liberal parents. For there was nothing in the book, really, about his success (or anyone else's) being the product of communal effort or government help. Indeed, the sense one gets is that Eli Broad believes religiously in the power of the Individual—the one man (or woman) who dares to be Unreasonable, ask hard questions, look at problems anew, and make the world conform to his vision—a notion that fits firmly within the Republican camp these days. Broad doesn't talk—or at least write—like a Democrat. And his education philanthropy doesn't fit
---
Daniela Fairchild / June 7, 2012
Historically, teacher evaluations have been "nothing burgers," with nearly 100 percent of educators rated "satisfactory" or better (often based on a single classroom observation, if that). These empty-calorie appraisals of educator effectiveness keep the teaching profession plump—but don't provide the right regimen to ensure its health. Recently, however, some have begun changing their diets. This report from Public Impact, 50CAN, and ConnCAN offers detailed profiles of ten meaty programs: Delaware, Rhode Island, Tennessee, Hillsborough County (Tampa), Houston, New Haven, Pittsburgh, D.C., Achievement First, and Relay Graduate School of Education. (Why CO's Harrison School District 2 wasn't included, we're unsure.) It explains how each handles all aspects of teacher assessment, from student-achievement measures and classroom observations to nonacademic measures; data accuracy, validity, and reliability; and evaluation-result reporting. Tennessee, for example, gathered teams of educators in each of the subjects not on state tests (and therefore not available for value-added analyses) to determine growth measures for these courses. And, to handle the sticky situation of team teaching, Rhode Island weights value-added results to reflect the amount of time each teacher spends with a student. Those hungry for healthier recipes for teacher-evaluation systems—or simply those in need of a beginner's cookbook—should nibble on this report.
SOURCE: Daniela Doyle and Jiye Grace Han, Measuring Teacher Effectiveness: A Look "Under the Hood" of Teacher Evaluations in 10 States (New
---
Lisa Gibes / June 7, 2012
Unwavering vision, relentless hard work, and a little bit of luck—that's what successful charter-school networks are made of. This heartwarming (and at times heart-wrenching) book chronicles the development of the Harlem Village Academies (HVA), and the conjoined life of their founder and CEO, Deborah Kenny. Convinced that "education is not about developing products; it's about developing people" and deeply concerned by teachers' feelings of disempowerment, Kenny created two schools—and growing—grounded in the efficacy of her teachers. Before opening, she spent days vetting would-be instructors, interviewing them, observing them in action—and only hiring amazing teachers dedicated to the mission of HVA. (A recent CRPE study finds that this sort of "hiring for fit" is common among the best charter networks.) With quality ensured (and a commitment to accountability established), teachers at HVA are granted more autonomy over classroom practice and curricular designs—so long as their teaching jives with HVA philosophies. Kenny and HVA offer a powerful and immensely successful model for schooling—though not one that is altogether novel. High-performing nations—yes, with Finland at the fore—have competitive and rigorous teacher-training programs, ensuring quality at the front end and allowing for more autonomy in the classroom. They also allow school leaders exponentially more flexibility in hiring and firing decisions than is typical in America's traditional district schools. Kenny's story is inspiring, grounded, and actionable. Developing great teachers
---
Amber M. Winkler, Ph.D. / June 7, 2012
"We've got it; let's spend it!" seemed to be the motto of most state pension program in the 1990s.
"We've got it; let's spend it!" seemed to be the motto of most state pension program in the 1990s. After finding surpluses in these kitties, most states beefed up their pension benefits (called "benefit enhancement")—as opposed to putting the money in the bank. In Missouri—as this new study by pension guru Michael Podgursky and colleagues explains—these sweeteners included, but were not limited to, upping basic payouts (by tweaking the calculation of final average salaries), raising the cap on the cost-of-living adjustments (twice), and adding a retroactive bonus for career teachers (those with thirty-one-plus year of service). The state, and its current teachers, are now paying dearly for the spending spree. Podgursky and co. examined personnel data from 1995 through 2009 from the Missouri Dept of Ed and the Public Service Retirement system to determine the impact of these policies. They estimate that the net immediate increase in pension benefits for educators was roughly $25,000 per teacher (double that if the promised increases are factored in). However, these benefits were distributed highly unevenly: Teachers on the cusp of retirement saw "large windfall gains"—upwards of $100,000 in added pension wealth—with novice teachers receiving between 10,000 and 20,000 additional dollars. Worse yet for new (or prospective) teachers, these benefit enhancements meant a constant and aggressive increase in contribution rates (needed to offset past liabilities accrued
---
Announcements
Fordham LIVE, April 26: A Nation at Risk 30 Years Later
April 11, 2013
In 1983, A Nation at Risk sounded the alarm over the state of America's K-12 system. What has changed in American education and society in the years since—and what still needs to happen? Join former U.S. education secretary William J. Bennett, eminent author, social and political commentator, and host of Bill Bennett's Morning in America, for a conversation on our schools, our culture, and our future. Register now to attend the lecture on April 26 from 11AM to 12PM EDT; the event will also be live-streamed online.
Archives
Sign Up

for updates from the Thomas B. Fordham Institute