Education Gadfly Weekly
Volume 12, Number 35
September 20, 2012
Opinion + Analysis
Reviews
Gadfly Studios
Podcast
Now what?
Checker and Mike autopsy the Chicago teachers' strike and wonder why students at top schools have the cheating bug. Amber looks at why kids jst cn't seam to rite.
Video


Exam Schools & 3 Myths
Featured Publication
Exam Schools: Inside America's Most Selective Public High Schools
yes Chester E. Finn, Jr. , yes Jessica Hockett / September 16, 2012
What is the best education for exceptionally able and high-achieving youngsters? There are no easy answers but, as Chester Finn and Jessica Hockett show, for more than 100,000 students each year, the solution is to enroll in an academically selective public high school. Exam Schools is the first-ever close-up look at this small, sometimes controversial, yet crucial segment of American public education.
Chester E. Finn, Jr. / September 20, 2012
Chicago's more than 350,000 public school pupils finally went back to class yesterday, after seven missed days due to the Chicago Teachers Union (CTU) strike. They were thus deprived of about four percent of the school year—and these are kids who need more schooling, not less. (One big issue in the labor-management dispute was Mayor Rahm Emanuel's plan to lengthen Chicago's famously bobtailed school day and year.)
The Chicago strike was a useful reminder that teacher unions are fundamentally selfish.

Photo by RachelD.
Thanks a bunch, CTU.
This strike—the first big one by teachers in ages—will be examined every which way for months to come, and the contract that was finally agreed upon will be carefully autopsied. (If you'd like to see a careful analysis of a previous Chicago teacher contract, download Fordham's Leadership Limbo report and flip to page fifty. If you'd like to inspect the contract that was in force until a couple of months ago—be warned that it's 176 pages long!—you can access it from the National Council on Teacher Quality's website.)
As for the new contract, my friends at NCTQ are more bullish than I am. Rick Hess's take
---
Chester E. Finn, Jr. / September 19, 2012
Barack Obama and Mitt Romney both attended elite private high schools. Both are undeniably smart and well educated and owe much of their success to the strong foundation laid by excellent schools.
We've failed to raise the ceiling for those already well above the floor.
Every motivated, high-potential young American deserves a similar opportunity. But the majority of very smart kids lack the wherewithal to enroll in rigorous private schools. They depend on public education to prepare them for life. Yet that system is failing to create enough opportunities for hundreds of thousands of these high-potential girls and boys.
Mostly, the system ignores them, with policies and budget priorities that concentrate on raising the floor under low-achieving students. A good and necessary thing to do, yes, but we've failed to raise the ceiling for those already well above the floor.
Public education's neglect of high-ability students doesn't just deny individuals opportunities they deserve. It also imperils the country's future supply of scientists, inventors, and entrepreneurs.
Today's systemic failure takes three forms.
First, we're weak at identifying "gifted and talented" children early, particularly if they're poor or members of minority groups or don't have savvy, pushy parents.
Second, at the primary and middle-school levels, we don't have enough gifted-education classrooms (with suitable teachers and curriculums) to serve even the existing demand. Congress has "zero-funded" the Jacob K. Javits Gifted and Talented Students Education Program, Washington's sole effort to encourage such education. Faced with budget crunches and federal pressure
---
Adam Emerson / September 20, 2012
In a few weeks, the Los Angeles school board will discuss enacting a moratorium on new charter schools, a measure that one board member claims is necessary to better assess the quality of a sector that now enrolls 15 percent of L.A. pupils. Not only would such a moratorium flout the law—school boards can't simply set aside their legal obligation to consider charter applications—it would be an irresponsible way to manage charter-school quality. The board should be weeding out bad charters, both extant and prospective, but that's only half of the job of a charter-school authorizer (and a difficult job at that). The board would be more effective—and more convincing when they say they care about charter students—if they made the effort to find new and promising providers to replace the failures. But, as with many moves like this, school-board members here seem intent on slowing the growth of charters by artificially capping enrollment (the wait list for L.A. charters is presently about 10,000). The board tried unsuccessfully to impose a moratorium on charters six years ago, just as the city became the first in the United States to contain 100 such schools, and it has become more antagonistic ever since. Not good for kids. Not good for education. But further evidence that the kids' interest doesn't necessarily prevail on the "management" side of the bargaining table, either. Then again, Los Angeles is one of those sad cases where that
---
Tyson Eberhardt / September 20, 2012
The media blitz surrounding a certain other education story overshadowed a recent court decision in Madison, Wisconsin with potentially far-reaching consequences. Last Friday, a judge in Dane County did what tens of thousands of protestors who swarmed the state capital in the spring of 2011 couldn't: torpedo the law that significantly restricted public-employee-bargaining rights in the Badger State. The fallout from Judge Juan Colas's decision to strike down portions of Act 10, Governor Scott Walker's signature legislative accomplishment, on grounds that the law violated workers' constitutional rights could be devastating on several fronts. In the short term, the ruling rips the scab off one of the uglier reform fights in recent memory and threatens to toss the state's labor relations into disarray as unions scramble to redo the refreshingly sane contracts negotiated after the law's passage—deals that have already saved districts boatloads of money. Even if Wisconsin's attorney general succeeds in preserving the law pending the outcome of an appeal (the conservative-leaning state supreme court is apt to be more sympathetic than a liberal Madison judge), education-reform advocates all over need to keep an eye on the proceedings. The late unpleasantness in Chicago reaffirms how much public-employee collective bargaining handcuffs even the most ambitious government leaders. Losing hard-fought ground in Wisconsin just as its new law begins to pay dividends would be a far greater setback than the CTU's win in Chicago.

RELATED ARTICLE: "
---
The Education Gadfly / September 20, 2012
Sunday's surprise move by the Chicago Teachers Union to keep kids locked out of class for an extra two days as delegates deliberated over a contract they would soon accept seemed gratuitous at the time, adding insult to the injuries that Rahm Emanuel's tough-guy reputation had already sustained. Reports of a mild insurrection within union ranks offer another interpretation, however, and serve as an important reminder not to underestimate the different priorities and motivations at work in internal union politics.
Just when it looked like the education Super Bowl had left town, Chicago's next education crisis reared its head: The city's teacher-pension system—like most such funds—is in a sorry state, with $10 billion in assets and $1 billion a year flowing out the door to retirees, far more than is being taken in. The situation makes the fight over 16 percent raises seem quaint…and the odds of a sane resolution to the pension problem seem downright chilling in comparison.
Columnist Eugene Robinson argued that "teachers are being saddled with absurdly high expectations" because poverty influences achievement far more than instruction. If only proponents of revamped teacher evaluations would acknowledge this and support evaluation models that measure what a teacher contributes to student learning rather a single fixed bar that all students are held to. What would they call it? Value-increased? No…Value-boosted? Hmmm. Anyone?
---
Asa Spencer / September 20, 2012
Traditionalists cringe, tech buffs rejoice: This latest NAEP writing assessment for grades eight and twelve marks the first computer-based appraisal (by the "nation's report card") of student proficiency in this subject. It evaluates students' writing skills (what NAEP calls both academic and workplace writing) based on three criteria: idea development, organization, and language facility and conventions. Results were predictably bad: Just twenty-four percent of eighth graders and 27 percent of twelfth graders scored proficient or above. Boys performed particularly poorly; half as many eighth-grade males reached proficiency as their female counterparts. The use of computers adds a level of complexity to these analyses: The software allows those being tested to use a thesaurus (which 29 percent of eighth graders exploited), text-to-speech software (71 percent of eighth graders used), spell check (three-quarters of twelfth graders), and kindred functions. It is unclear whether use of these crutches affected a student's "language facility" scores, though it sure seems likely. While this new mechanism for assessing kids' writing prowess makes it impossible to track trend data, one can make (disheartening) comparisons across subjects. About a third of eighth graders hit the NAEP proficiency benchmark in the latest science, math, and reading assessments, compared to a quarter for writing. So where to go from here? The report also notes that twelfth-grade students who write four to five pages a week score ten points
---
John Horton / September 20, 2012
With so much attention focused on teachers (from hiring to evaluation to pay to firing), not enough has been paid to public education's other vital human resource: school principals. And that's a problem. "Unfortunately, when it comes to cultivating school leaders, current state-level practices are, at best, haphazard," write authors Christine Campbell and Betheny Gross in this Center for Reinventing Public Education brief. Their recommendations are sound and straightforward: States should track the right data (anticipate when principals will retire, which ones need more support, and which training programs produce the best results) and strategically fill the leader pipeline (giving the right work to the right people in the right schools). Putting flesh on those policy bones, the brief provides specific examples of where individual states should target efforts. Iowa, for example, should employ principal-recruitment strategies because of the number of leaders nearing retirement age, while Indiana—with a younger principal population—should emphasize professional development. Getting teacher policy right is key. But so is principal policy. This brief offers a smart way forward.
SOURCE: Christine Campbell and Betheny Gross, Principal Concerns: Leadership Data and Strategies for States (Seattle, Washington: Center on Reinventing Public Education, September 2012).
---
Pamela Tatz / September 20, 2012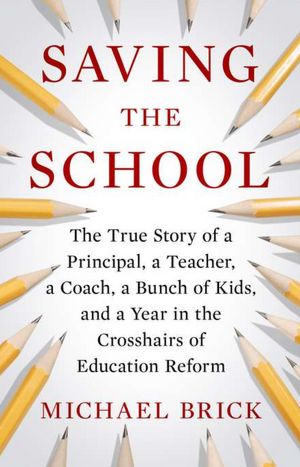 The winds of accountability have closed the doors of some failing schools. But most stay open, struggling (often unsuccessfully) to boost student achievement. Michael Brick's Saving the School tells the story of Austin's Reagan High, a school that did weather the storm and improve. The book is structured as a narrative that follows a few main characters: the principal, a young science teacher, the basketball coach, and a star student athlete. Through schmaltzy prose, one can glimpse some worthy policy guidance. Above all: Hire a driven, mission-oriented, and strong leader, then inject classrooms with teachers of the same ilk. At Reagan, the principal scoured the neighborhood to locate truants. The science teacher opened her home to her students for Bible study, free meals, and a sympathetic ear. The coach's deep and enduring connection to his team helped revive the school's flagging spirit. And the students responded. Brick forces readers to think about teacher quality and its enormous effect on students, especially those who struggle, and he reminds us of the power of expectations. The most concrete lesson of the book, an important message in and of itself, is that when policy hits practice, things get complicated.
SOURCE: Michael Brick, Saving the School: The True Story of a Principal, a Teacher, a Coach, a Bunch of Kids, and a Year in the Crosshairs of Education Reform (New York,
---
Daniela Fairchild / September 20, 2012
At 31 percent, the United States currently ranks second among OECD nations—behind Norway—for the percentage of its workforce with a four-year college education. That's the good news. The bad news is that we rank sixteenth for the percentage of our workforce with a sub-baccalaureate education (think: postsecondary and industry-based certificates, associate's degrees). Yet a swath of jobs in America calls for just that sort of preparation, which often begins in high school. Dubbed "middle jobs" in this report by the Center on Education and the Workforce, these employment opportunities pay at least $35,000 a year and are divided among white- and blue-collar work. Yet they are largely ignored in our era of "college for all." In two parts, this report delineates five major categories of career and technical education (CTE), then lists specific occupations that require this type of education. It's full of facts and figures and an excellent resource for those looking to expand rigorous CTE in the U.S. Most importantly, it presents this imperative: Collect data on students who emerge from these programs. By tracking their job placements and wage earnings, we can begin to rate CTE programs, shutter those that are ineffective, and scale up those that are successful. If CTE is ever to gain traction in the U.S.—and shed the stigma of being low-level voc-tech education for kids who can't quite make it academically—this
---
Announcements
Fordham LIVE, April 26: A Nation at Risk 30 Years Later
April 11, 2013
In 1983, A Nation at Risk sounded the alarm over the state of America's K-12 system. What has changed in American education and society in the years since—and what still needs to happen? Join former U.S. education secretary William J. Bennett, eminent author, social and political commentator, and host of Bill Bennett's Morning in America, for a conversation on our schools, our culture, and our future. Register now to attend the lecture on April 26 from 11AM to 12PM EDT; the event will also be live-streamed online.
Archives
Sign Up

for updates from the Thomas B. Fordham Institute